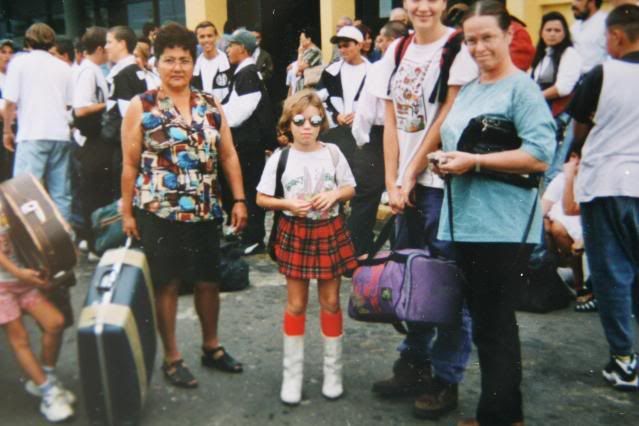 Me circa 1995 at the Airport in Costa Rica, dutch post this time, sorry! Ill get to translating later and post it soon!
dit zijn niet de witte laarsjes van het verhaal, die mocht ik niet aan in het openbaar (vliegveld)
Mijn witte hakken waren mijn grootste trots, ik nam ze overal mee naartoe in mijn rugzakje. Ze waren grotesque. Hadden een enorme hoge blokhak, een plateau aan de voorkant met een vierkante neus uitgevoerd in wit glimmend leer, met een zwarte zool(so 90's). Waarschijnlijk ook knetterduur, maar daar had ik destijds nog geen besef van. Na maandenlang consistent elke avond zeuren met uiteindelijk een schaamteloze grand finale met veel gekrijs en gehuil in het winkelcentrum voor de schoenenwinkel, gaf mijn moeder toe en haalde ze haar creditcard door de betaal automaat.
Voordat ik mijn allerliefste witte enkellaarsjes bezat, propte ik mijn moeders pumps vol wc papier en inlegzooltjes totdat de binnenkant zo klein was als mijn voetje. Ze móesten gewoon passen! Toch was ik niet tevreden met de ouwbollige, degelijke pumps, en droomde van plateauzolen en naaldhakken. Eenmaal met de ordinaire witte schoentjes in mijn bezit, deed ik zodra de kans zich voordeed mijn gympies uit om op die enkellaarsjes te paraderen over de speeltuin, liefst boven op het plastic klimrek bij de McDonalds waar de hakken flink lawaai maakten en zéker niemand ze over het hoofd zou zien. Mijn witte laarsjes gingen ook alle voetjes van mijn vriendinnetjes af, iedereen wou ze lenen, iedereen wou er op lopen!
Afgezien van het feit dat ik een gestoord kind was, liet ik mezelf nooit beinvloeden door schaamte of werd niet beperkt door meningen van andere mensen. Hoe afgrijselijk en tacky mijn 12 cm hoge plateau laarsjes ook waren,(Mijn smaak paste volgens mijn vader meer bij een prostituut(prosti-kid) dan bij een 'fatsoenlijk' 9-jarig meisje) ík vond ze prachtig.
Die houding probeer ik vast te houden, maar niet alleen als er 's ochtends weer een kledingcrisis is.. bergen kleding niks om aan te trekken, ook als ik een ander standpunt heb dan de rest, of iemand weer eens commentaar heeft op mijn kledingkeuze.
Dan denk ik terug aan toen ik klein, schaamteloos was, en het voor elkaar kreeg om op veelste grote hóge hakken toch sterk in mijn schoenen te staan.