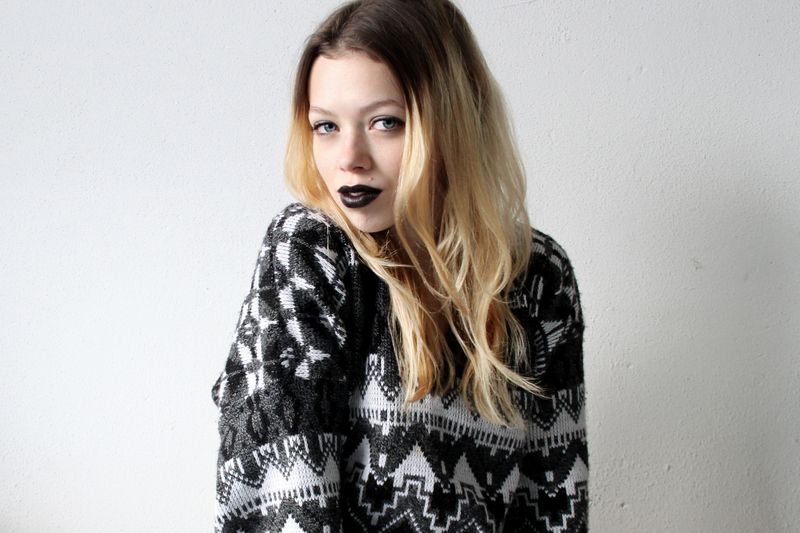 knit sweater Thrifted, Leather pants COS, double finger ring H&M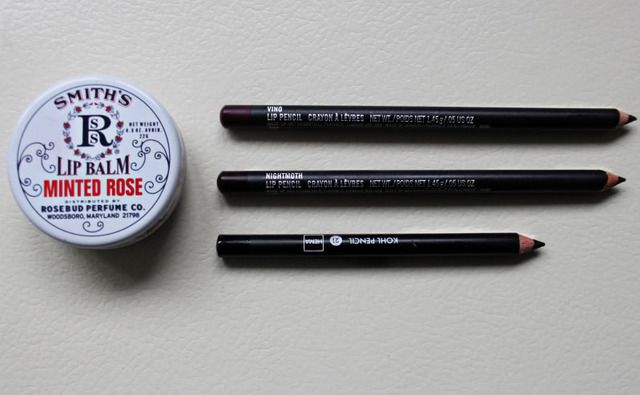 My favorite products: Smith's minted rose lip balm, MAC lip pencils: Nightmoth and Vino, Hema black kohl pencil
I've been getting a lot of questions about which lipsticks and products I use. To begin with I'd like to recomment NOT using lipstick. I've tried so many brands from expensive Chanel lipsticks to cheap lipsticks from an emo-shop(in case you're questioning yourself right now about what they sell at EMO shops.. well mainly striped socks and occasionally also cheap asian cosmetics). But lipsticks just don't last all day and 'bleeding' becomes very visible with dark colors, specially if you have a pale skin.
So how to get matte(I hate shiny lips) dark lips that don't stain and last all day?Use a lip pencil or kohl pencil to draw and entirely color your lips. Before applying the lip pencil use a tiny tiny (you don't want them too shiny) bit of lip balm to moisturize your lips. The lip balm also makes the coloring with the pencil easyer and smoother.
My favorite products which I use almost every day are the lip pencils from MAC, colors Nightmoth and Vino. Regular Hema(cheap brand from the Netherlands)black kohl pencil and Smith's minted rose lip balm.