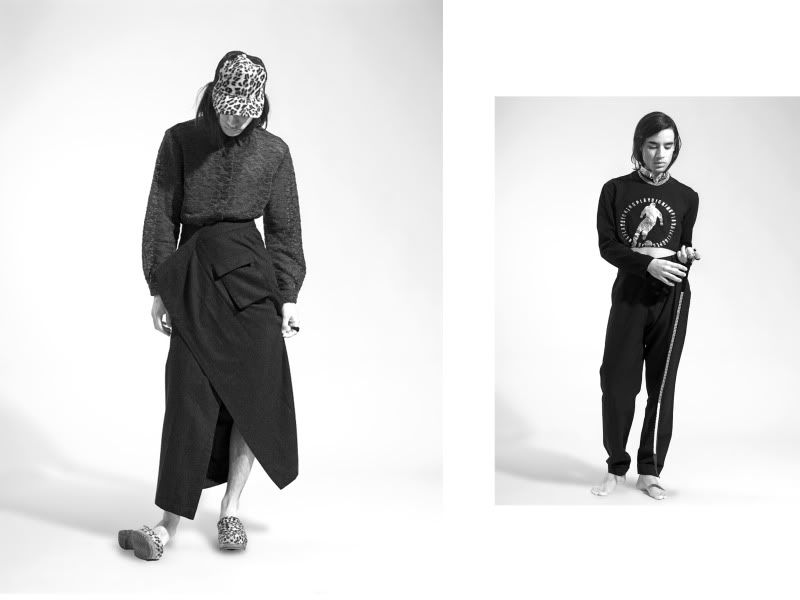 Giuliano Bolivar
always goes a step further than expected. For example customizing some secondhand clothes turns into a full fledged collection and asking him casually to do guest post on Love Aesthetics has resulted in an entire production instead of some snapshots.
No 1
WE START TO GET REAL! This is the kind of outfit I would wear everywhere; to the library, school, parties, art gallery openings, supermarket, park, and the list goes on. Probably not exactly paired with leopard print wooden clogs as seen deliciously on the picture and not for taste matters but more according to the weather. It's just so exciting to clash one thing over the other everytime; a leopard trucker cap, woolen blend sheer button up shirt, with woolen H&M MEN skirt from the 90's and dutch leopard printed wooden shoes.
No 2
"WE BELIEVE IN EVERYTHING THAT SHINES!" don't we?! I only forgot who I was quotating right here, my apologies. This started out by me just grabbing really nice accessories and paring them with smpler basics. BUT not getting too crazy. From head to toe: Versace cat head golden choker, cropped long-sleeve black t-shirt with random sporty golden print (which I purposedly cropped as well), high waist black polyester carrot-shaped trousers, thin golden studded belt not worn as a belt.