left: Acne Store,
right: Comme des Garcon wallet, garments at the Wood Wood store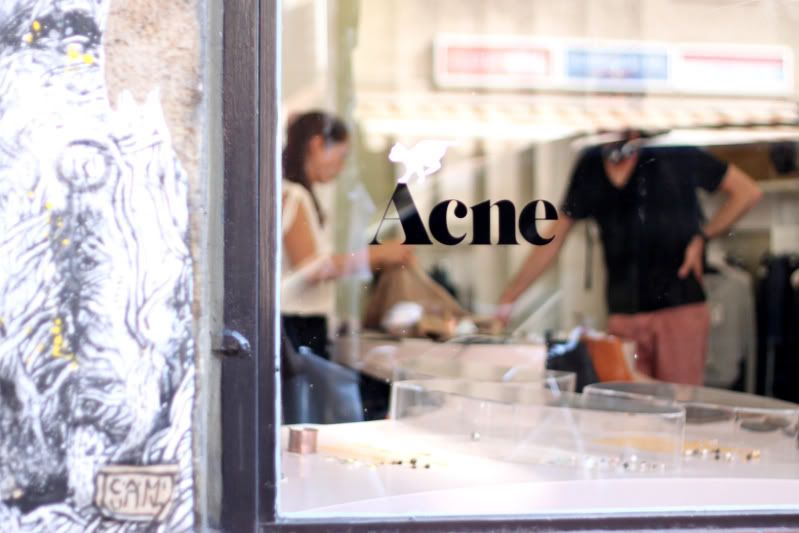 The tiny Acne sign on the window of their Berlin shop



Muji, adorable mini notebook I got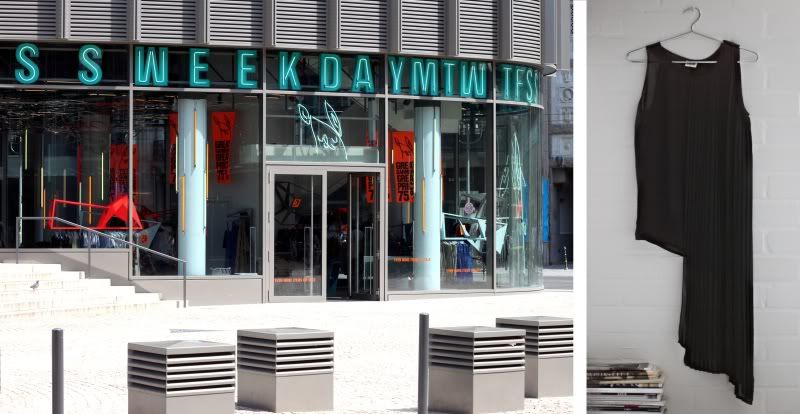 Weekday, one of their fantastic pieces that I purchased; an assymetric dress

Where the neighbor shop windows were styled exactly according to season and the streets in Mitte were flooded by Levis cut off shorts and black wayfarers, the
Acne
store stood out with its clean minimalist aesthetic. The personnel was dressed in white button up shirts, the inside was impeccably white while the outside wall was left raw, unpainted and covered with stickers and graffiti tags. Only a small discreet ACNE on the window indicated that this was the Berlin home of this Swedish brand.
Münzstasse 21
Another shop worth visiting in the utterly hip neighborhood Mitte (Hipster central?)is the concept store by Scandinavian brand
WoodWood
. Besides selling their own brand they also offer a collection of magazines and books, sneakers and other brands like Opening Ceremony, Sonia Rykiel and Comme des Garcons.
Rochstrasse 4
Looking back, the funnest shop in the Mitte area, the one that left the thought in my mind of 'I wish I had bought this and this and that' was
Muji
. A Japanese chain with the message 'back to our origins into the future' that sell all kinds of things in their simplest form, no prints, no brand names, no fuss; typically Japanese. From notebooks to clothing to furniture. And almost everything is either cardboard-brown, transparent or white. The products they offer are unpretentious, basic yet smart. A well designed raincoat of the type that you can fold so small that it fits in your back pocket, note- and sketchbooks in the cutest formats and transparent make up containers that are so chic that you can already envision them filled with Chanel products.
Hackescher Markt 1
I had been stalking the
Weekday
website for months already and coincidentally, Weekday happened to be right across the street from the hotel that I was staying at. For those like me who don't have a Weekday in their country; don't expect the best quality though if you look carefully there is some good stuff to be found, like their footwear, the garments designed by Stine Goya, their huge Cheap Monday collection.
Friedrichstrasse 140

More..
-Appartment: Memhardstraße 8
What they sell? Mens and womenswear; Rick Owens, Cheap Monday, Gareth Pugh
-Cash: Memhardstraße 8
What they sell? Second hand and last season's designer items
-Lomography Gallery store: Friedrichstraße 133
What they sell? All kinds of cameras and camera accessories
-COS: Friedrichstrasse 83, Neue Schönhauser Strasse 20
What they sell? the usual COS.
-Made in Berlin: Neue Schönhauser Strasse 19
What they sell? Vintage men's and women's clothes and accessories
-Doctor Martens: Dircksenstraße 49
What they sell? Mens, Womens, Kiddie Docs