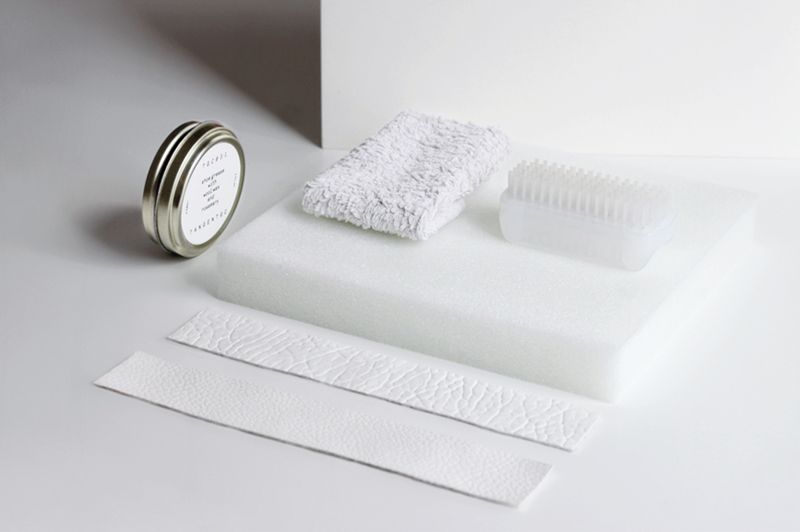 For a little while it was a little dilemma for me when choosing between real or faux leather, considering the environment. Cows being the
biggest producers of CO2
versus the chemical process it takes to make faux, plastic leather. Though no fake alternative comes close to having all the beautiful properties and qualities that real leather has. Keeping this in mind, I think it's important to take care of your leather goods and make them last as long as possible. Here's a super quick treatment that my most used bags get every couple of months.
/ cleaning
_ First off; determine what type of leather you are dealing with. Delicate leathers like nappa or calfskin should be handled by professionals. But if you've got a protected kind on hand (most bags and purses are), which doesn't absorb water, you can clean it yourself.
_ (For a quick clean without damaging the surface of your leather you can use (ph neutral) face wipes.)
_ Spray some of your leather cleaner or soapy water (ph neutral hand soap diluted with water) over the entire surface and very gently, without too much pressure brush it into the leather with a soft brush. Wipe it off with a dry cloth.
_ Repeat on stained areas, use the brush to get the dirt out or the pores and grains of the leather.
_ Lastly, rub a leather conditioner (I'm using
this
one from Tangent GC) onto the clean surface with a clean cloth. This will protect the leather and keep it supple.
Previous Garment Care post /
Keeping white clothes white
/ leather cleaner -or-
/ soapy water
/ clean cloth
/ soft brush
/ face wipes